lunes, 27 de septiembre de 2010
Publicado por Anónimo en 11:58
Esta es la segunda entrega de la nueva temporada de Good Evening Gotham City. En esta ocasión analizaremos los que significa Batman Inc.
Batman: La corporación.
En la historia de los comics el número clave, el número del balance y del equilibrio, ha sido el 2. Dos eran el héroe y su némesis, Superman y Lex Luthor por ejemplo. Dos eran el mejor equipo de héroes, Batman y Superman. Dos eran los mejores amigos, Clark Kent y Jimmy Olsen. Dos eran los integrantes del duo dinámico más famoso de la historia de los comics: Batman y Robin. ¿En noviembre será el final de la importancia del número 2 con el regreso de Bruce Wayne y el inicio de Batman INC? ¿Que significará Batman INC, no su traducción literaria, para la mísitica de una vigilante que siempre ha tenido la imagen de un luchador solitario?.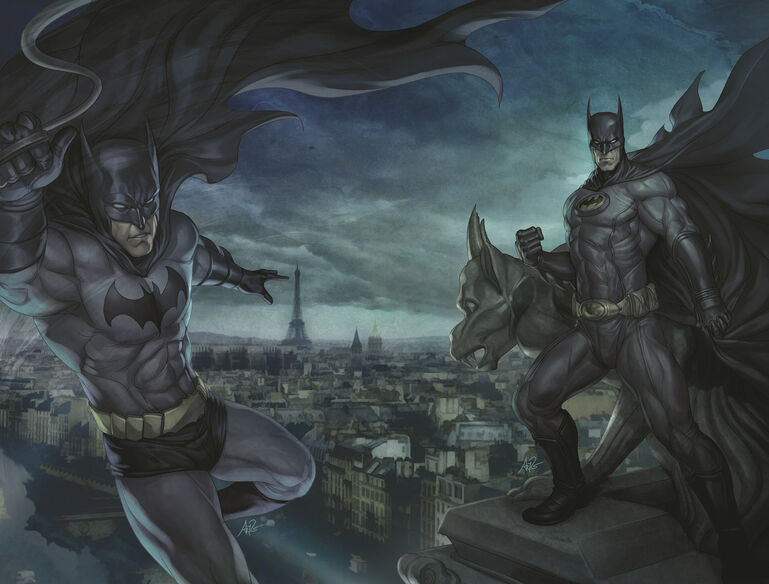 El regreso de Bruce Wayne está en proceso, por ahora el buen Bruce se encuentra perdido en el tiempo, con amnesia y viviendo grandes aventuras temporales pero su regreso al presente, para volver a asumir la identidad de Batman, ocurrirá en Noviembre lo cual no significa que Dick Grayson vaya a renunciar, tendremos dos Batman. Dick seguirá como protagonista en los títulos "Detective Comics," "Batman" y "Batman and Robin,", mientras que Bruce Wayne se limitará a dos nuevos títulos "Batman Inc." y "The Dark Knight".
Por primera vez, luego de una larga trayectoria de más de 70 años, tendremos dos Batman. "Pero... eso ya lo hemos visto antes!!!" dirán algunos. Es cierto, en el pasado ya hemos visto más casos de personas que han asumido la identidad de Batman, ya sea reemplazando a Bruce o trabajando en paralelo. Recordemos a Jean Paul Valley en los años 90 y luego a los tres reemplazos de Batman (Josef Muller, Branca y Michael Washington Lane) creados para que entren en acción en caso algo le suceda al original. Pero esta vez es diferente, no estamos hablando de un sustituto temporal, ni de una versión desquiciada de Batman. Esta vez los dos Batman son buenos y han llegado para quedarse, no estoy seguro que sea de forma permanente pero al menos si por mucho tiempo. Sin embargo Batman Inc. no es la historia de dos Batman, es algo más grande.
La preocupación por Batman Inc. y lo que implica tener más de un Batman está presente en los fans pero eso no es lo principal del nuevo título el cual será, en realidad, la red internacional para combatir el crimen que va a montar Bruce a nivel mundial. Una gran número de súper héroes, de diferentes países, todos trabajando con, y para, Batman. En cada número Batman hará equipo con los diferentes héroes, por eso se ha comparado Batman Inc. con Batman The Brave and The Bold. Sin embargo esto no sería ninguna novedad para la historia de Batman.
Seamos claros, la mayor novedad de Batman Inc. sería el nuevo traje de Bats, la idea de una guerra internacional contra el crimen no es ninguna novedad. Hace mucho tiempo que Batman dejó de ser el vigilante solitario de Gotham, por mucho tiempo estuvo al mando de los Outsiders, luego expandió sus aliados en Gotham, Catwoman, Huntress, Batgirl, Oracle, Azrael, todos ellos vigilaban áreas de la ciudad bajo el mando de Batman. Luego creó el satélite Brother I como un sistema de vigilancia mundial que terminó siendo más un problema que una solución. En la historia "Club of Heroes" vimos como la influencia de Batman se expandía a otros países con vigilantes como El Gaucho en Argentina y Knight en Francia, entre otros.
En Batman Inc. veremos como se expande la idea ya planteada de control internacional del crimen cuando Batman trabaje en equipo con sus diferentes aliados por el mundo. ¿Y que hay de Gotham? La ciudad seguirá bajo el cuidado de Batman (Dick Grayson) y Robin, mientras que Bruce seguirá vigilando su ciudad en el título The Dark Knight.
¿Es buena la idea de dos Batman?
Personalmente no me agrada mucho, hubiera preferido que Bruce asuma un papel parecido al que tiene en Batman Beyond. Es que, para mí, Dick se ha ganado el puesto, pasó de ser una compañero, un personaje secundario, a ser una personaje principal. El creó un Batman con una nueva personalidad que fue el inicio, el gran cambio, para crear nuevas historias llenas de sorpresas. Nadie podrá negar que luego de tantos años es agradable leer algo realmente novedoso.
Pero, dejando de lado la apreciación personal y desconfianza, tengo que reconocer que tener dos Batman es una buena idea que abre una gama de posibilidades para nuevas situaciones que exploren las reacciones de los personajes, héroes y villanos, también será interesante saber como afectará todo esto al universo DC, además se podrán hacer nuevas aventuras de dos Batman que son muy distintos.
Para concluir y siendo muy sincero. No tengo muchas esperanzas hacia Batman Inc por que no me parece interesante la presencia de personajes secundarios y desconocidos haciendo equipo con Batman, hubiera preferido que sea con Green Lantern, Green Arrow, Flash o algún otro personaje importante de DC. Además que prefiero las aventuras en Gotham, no en ciudades reales. Claro que si voy a leer el primer número de Batman Inc. por curiosidad, porque es el primer número y por que espero estar equivocado en que no será interesante y que mi desconfianza es infundada.