jueves, 17 de agosto de 2017
Publicado por Ezequiel en 22:00
Portada de John Paul Leon para "Batman: Creature of the Night" #1.
Los
Bat-Books
no paran de llegar y los amargos de siempre deben estar dándose contra el piso.
DC Comics
parece más decidido que nunca a depredar los bolsillos de sus fans, especialmente de los
Bat-Fans
(¿los otros importan?)
, en la segunda mitad del año puesto que el
29 de Noviembre próximo
llega
un nuevo título
basado en nuestro héroe,
"Batman: Creature of the Night"
.
La
mini-serie de cuatro capítulos en formato prestige
propone algo un tanto distinto y eso ya la hace destacable desde el vamos. Situada en
Boston
en
1968
, nos contará la historia de
Bruce Wainwright
, un niño que está obsesionado con
El Encapotado
y compartirá el horrible
destino que Bruce Wayne tuvo
cuando era pequeño, atestiguando el asesinato de sus padres a manos de un ladrón. Se supone que estamos
enmarcados en el mundo real
, donde
los personajes de historietas son sólo eso
, pero eventualmente una
suerte de Hombre Murciélago aparecerá
en las calles
para cazar
a los malhechores por las
noches
. ¿Será real lo que este joven
Bruce
está viviendo?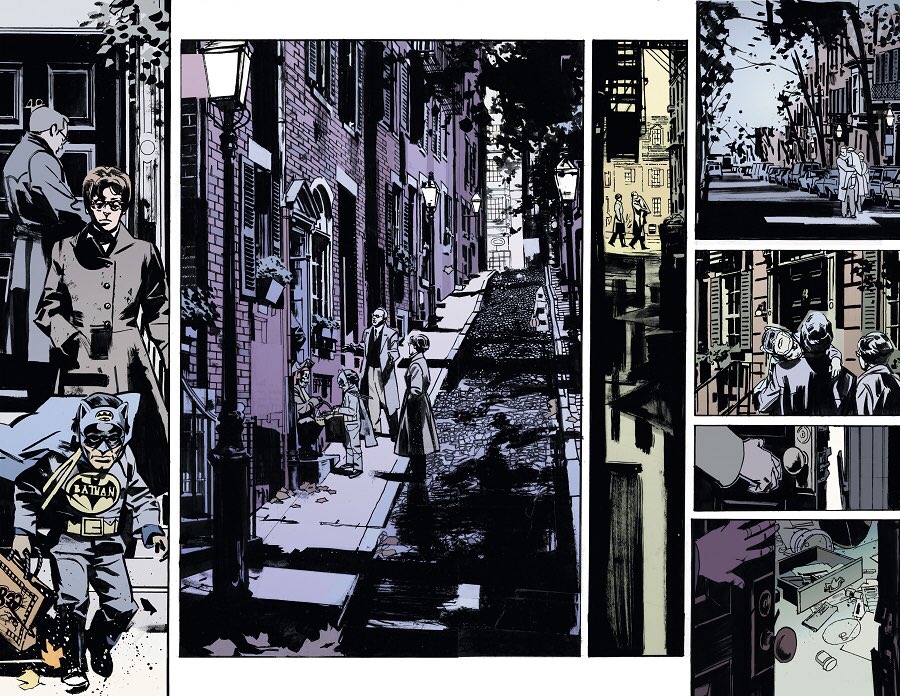 Doble página de "Batman: Creature of the Night" #1.
La historia correrá por cuenta de dos grandes como son
Kurt Busiek y John Paul Leon
.
Busiek
supo trabajar para
DC
en varios títulos como
"Action Comics", "Wonder Woman", "Justice League of America" y "Trinity"
por nombrar algunos, aunque es reconocido
sobre todo por "Astro City" (Image Comics)
. Asimismo,
Kurt
hizo una serie
similar a la que nos compete en 2004
junto a
Stuart Immonen
,
"Superman: Secret Identity"
, donde se narra la vida de un adolescente de
Kansas
llamado
Clark Kent
que
descubre que puede volar e inclusive tiene súper
fuerza, tratándose también de una historia
situada en lo que podemos considerar como el mundo real
.
El artista
John Paul Leon
actualmente trabaja
en el cuasi-Bat-Book
"Mother Panic"
publicado
bajo el sello
de aventuras
adolescentes
de DC llamado "Young Animal" y en Los Nuevos 52 trabajó en el arco "The Terminal" de "Detective Comics" v2
. Además
ilustró la novela gráfica
"Batman: Anarky"
(1999) y en
"Batman: Black and White"
v2 (2003), entre otros trabajos vinculados al
Caballero Oscuro
.
Un pequeño dato de color: El niño que protagonizará esta historia se llama Wainwright, tal como Joshua de Wainwright, un ancestro templario de Bruce Wayne en el Elseworld "Batman: Dark Knight Dynasty" del año 2003. Curiosamente aquel relato gira en torno a Vandal Savage y, si están al tanto con "Dark Days"/"Dark Nights", saben que esto no puede ser una coincidencia *guiño guiño* (?)