jueves, 19 de septiembre de 2019
Publicado por Jormax23 en 22:00
Continuando con el análisis de todos y cada uno de los Robins (puedes leerlos aquí:
Dick
,
Jason
,
Damian
), toca el escenario a quien tal vez ha sido considerado el mejor por muchos.
No tanto por sus capacidades, sino por la gran versatilidad que tuvo/ tiene dentro de las historias del Mejor Detective del Mundo. Quien, precisamente, podría rivalizar fácilmente con ese mote, dependiendo de las circunstancias.
Timothy "Tim" Jackson Drake
.
Quizá para los que hemos estado en este mundillo de comics por años, no les parezca gran cosa el Robin ninguneado (más adelante explicaremos el porqué), sin embargo a nadie le es indiferente que su presencia en los 90's provocó una mayor atracción al Encapotado y a las aventuras en Gotham.
Precisamente el que haya tenido una gran presencia en la extensión de la que es considerada una de las mejores animaciones del DCU:
Batman the Animated Series
, más específicamente en
The New Batman Adventures
le hace tener un lugar más que privilegiado en la historia del Murciélago de Gotham.
Para aclarar, BTAS se emitió de 1992 a 1995, en donde
Dick Grayson
es Robin, mientras que B:TNBA se transmitió del 1997 a 1999).
Aunado a esto, una buena parte del cariño del público también viene de otra de las grandes animaciones del DCU,
Batman Beyond: Return of the Joker
(2000). En dicha historia vemos una de las tantas repercusiones de las acciones del Caballero Nocturno y cómo es que una de ellas terminó por impactar la vida de Tim y por consiguiente su relación con Bruce. Bueno, como si nadie supiera que eso es de lo más natural del mundo.
Fue el primer (y si mi memoria y Google no me fallan) Robin en tener su propia publicación entre 1993 y 2009, continuando como
Red Robin
del 2009 al 20011 (y "muriendo" varias veces, literal y metafóricamente, desde 2011 hasta la fecha), sin mencionar relevantes actuaciones en eventos de la talla de
Identity Crisis
(2004),
Infinite Crisis
(2005-6),
Batman R. I. P.
(2008),
Final Crisis
(2008) y
Battle for the Cowl
(2009), previo a iniciar su propio run en RR antes de la vuelta de Bruce Wayne.
Agreguemos la por demás interesante iteración de
Titans of Tomorrow
, originalmente planteada por
Geoff "entregas tardías de Doomsday Clock y Shazam" Johns
y en los últimos años desarrollada por
Peter J. Tomasi
en
Supersons
("
Supersons of Tomorrow
") y
James Tynion IV
en
Detective Comics
("
Rise of the Batmen", "The Victim Syndicate", "League of Shadows", "A lonely place of living", "Fall of the Batmen"
). De igual manera, su versión como Batman Beyond fue de lo medianamente rescatable de la fácilmente olvidable
Futures End
por
Dan Jurgens
, quien lo tomaría para el inicio de su run en Batman Beyond (2016) en el inicio de la era
Rebirth
.
Si a todo esto le sumamos los cortos y, me atrevería a decir, infructuosos, intentos de darle un aire de "novedad" desde la era
Post- Flashpoint
, Tim Drake es de los personajes, sino es que el más, afectado y desaprovechado de todos los que DC ha ninguneado en pro de "no sabemos qué".
Y bueno, ni qué decir de la nueva iteración de Tim Drake:
Drake
(like, seriously?)
El Robin perfecto
Sin ánimos de entrar en comparaciones, y de simplemente contar un poco la enorme historia de este personaje, Tim cuenta con las capacidades intelectuales que bien podrían poner en jaque al propio Bruce de llegado el momento.
Si tomamos en cuenta muchos de los orígenes de nuestros héroes, nos daremos cuenta que por lo general, vienen precedidos de un gran trauma o un trágico accidente o un dolor indescriptible o algo similar. Sin embargo, Drake (Tim, no el alter ego) es uno de los contados héroes, sino es que el único, que no ha necesitado vivir cerca de la tragedia para decidir convertirse en el salvador de todos.
De hecho, de todos los Robins, se podría decir que es el menos traumado posible. Claro, ya no sabemos ni qué historia de origen es la buena, ya que hemos visto en los últimos años que Tim no se llama Tim, que TimRobin no existió como tal, que sus padres están vivos, que sus padres están muertos, que sus padres no son sus padres, que fue adoptado por Bruce, que no fue adoptado por Bruce y un sin fin de elementos más que pudieran ser hasta incómodos de mencionar.
Como sea, al no tener un "trauma" que lo orilla al peligro (bueno, uno marcado, claro está), Tim es genuinamente alguien que voluntariamente se enfrascó en la Guerra Santa de Bruce al darse cuenta que Batman "necesita a Robin" para ser en verdad mejor.
Con esto en mente, el pequeño Tim, quien en uno de sus orígenes, vio cómo Dick Grayson perdió a sus padres al caer del trapecio, y cómo las actuaciones del primer Robin coincidían con las habilidades acrobáticas de ese nuevo huérfano, poco tardó en darse cuenta quién era Batman (duh!).
Al evidenciar que parte de la humanidad tanto de Bruce Wayne como de Batman, radicaban en esa base sólida de un Robin, y por consiguiente, en la noción de una "familia", Bats decide hacerlo parte de la cruzada contra el crimen.
Ésta última es la base de todo lo que la basta mayoría de los fans creemos (y preferimos) quedarnos del origen de Tim.
Un origen truncado, confuso y olvidado
Muchos nos cuestionamos cómo es que se pudo desaprovechar una historia tan rica e interesante como la suya dentro de
New52
, ahora bien, ni siquiera se supo explicar del todo cómo es que Red Robin se convirtió no en sidekick, sino en un héroe en sí mismo; y si le sumamos que "Tim Drake" no era el nombre real y que mantenía a sus padres en una guarida secreta tipo protección de testigos, teníamos uno que otro elemento interesante que no terminaba de cuajar.
(No digamos, un traje que, en algunas ocasiones y dependiendo del artista, parecía de corista de Las Vegas...)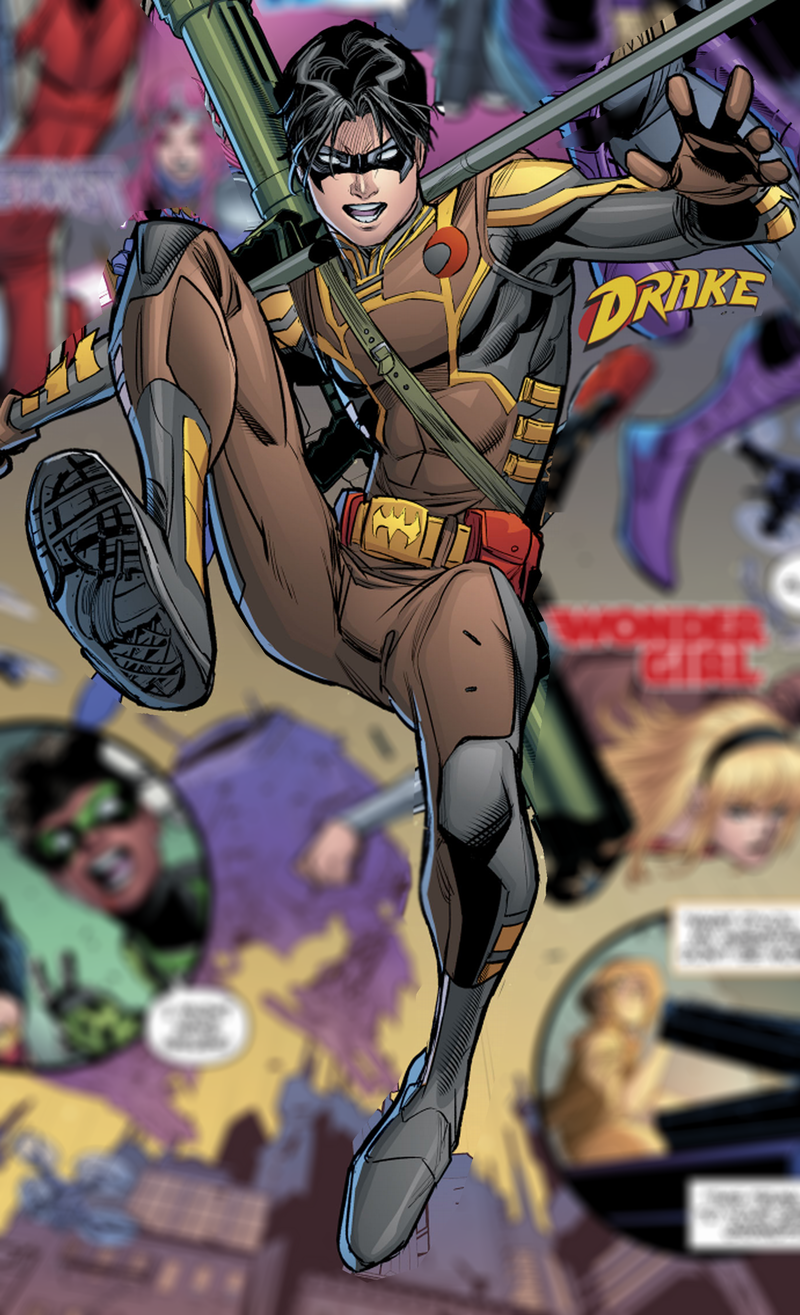 De hecho durante el
Batman & Robin Eternal
, el propio Tim discute con Grayson ya que él sabía dónde podía encontrar a sus padres, lo cual podría ponerlos en peligro.
Las fallas en cronología, el desconocimiento de algunos sucesos del bativerso, además de su olvidada relación con
Conner Kent
y
Stephanie Brown
fueron de los elementos que más disgustaron al fandom y que hoy día, siguen siendo motivo de incomodidad, si no es que enojo.
Si bien, antes de la llegada del New52, la misma editorial se había empeñado en "manchar" un poco el legado del personaje al darle por fin un trauma del tamaño de la familia disfuncional a la que pertenece, viendo cómo su padre era asesinado por
Captain Boomerang
y cómo estuvo a punto de caer en esa delgada línea una vez que decide separarse de la Bati- familia e iniciar sus andanzas como Red Robin. Y no se diga la muerte de Stephanie...
De alguna manera, el poner ese toque "oscuro" no rinde tanto efecto en personajes que sabemos que por naturaleza no pueden ser así.
La batalla por el manto
Algo que todos saben es que, al ser discípulo de Batman, tienes la posibilidad de portar el símbolo del murciélago. Y algunos, están llamados a portarlo siendo Batman. En el caso de Tim, es un tema bastante interesante, que sólo hasta fechas recientes podemos darnos a la tarea de entenderlo.
Si bien, fue de los pocos que mantuvo la esperanza luego de saber "muerto" a Bruce durante
Final Crisis
, sabía que la carga emocional de ser Batman no es para cualquiera, ya que se trata de una misión que no sólo se trata de capturar a los malos, sino de inspirar a las personas a ser su mejor versión. Cosas que sólo sujetos como
Bats, Supes y Wondy
pueden hacer por naturaleza.
Tim, mantuvo su creencia hasta el final y eso lo llevó a enfrentarse tanto a Dick, Damian y Jason para que la memoria de Batman se mantuviera. De igual manera, el saber que no podría/quería portar el manto de alguna manera le daba una sensación de ligereza, ya que, siendo una de las mentes tácticas más importantes del DCU, encontraría una mejor manera.
Con la evidencia de los Titans of Tomorrow y cómo la idea de un
BatDrake
sería una versión más extrema de lo que un mismo Todd podría ser, vemos evidenciada la naturaleza secreta del tercer Robin. De igual manera, con su participación en
Nightwing The New Order
, el fantástico run de Tynion en TEC y las referencias en Supersons of Tomorrow: Tim puede ver que, para que la "misión" tenga resultados, se tiene que pensar de una forma diferente.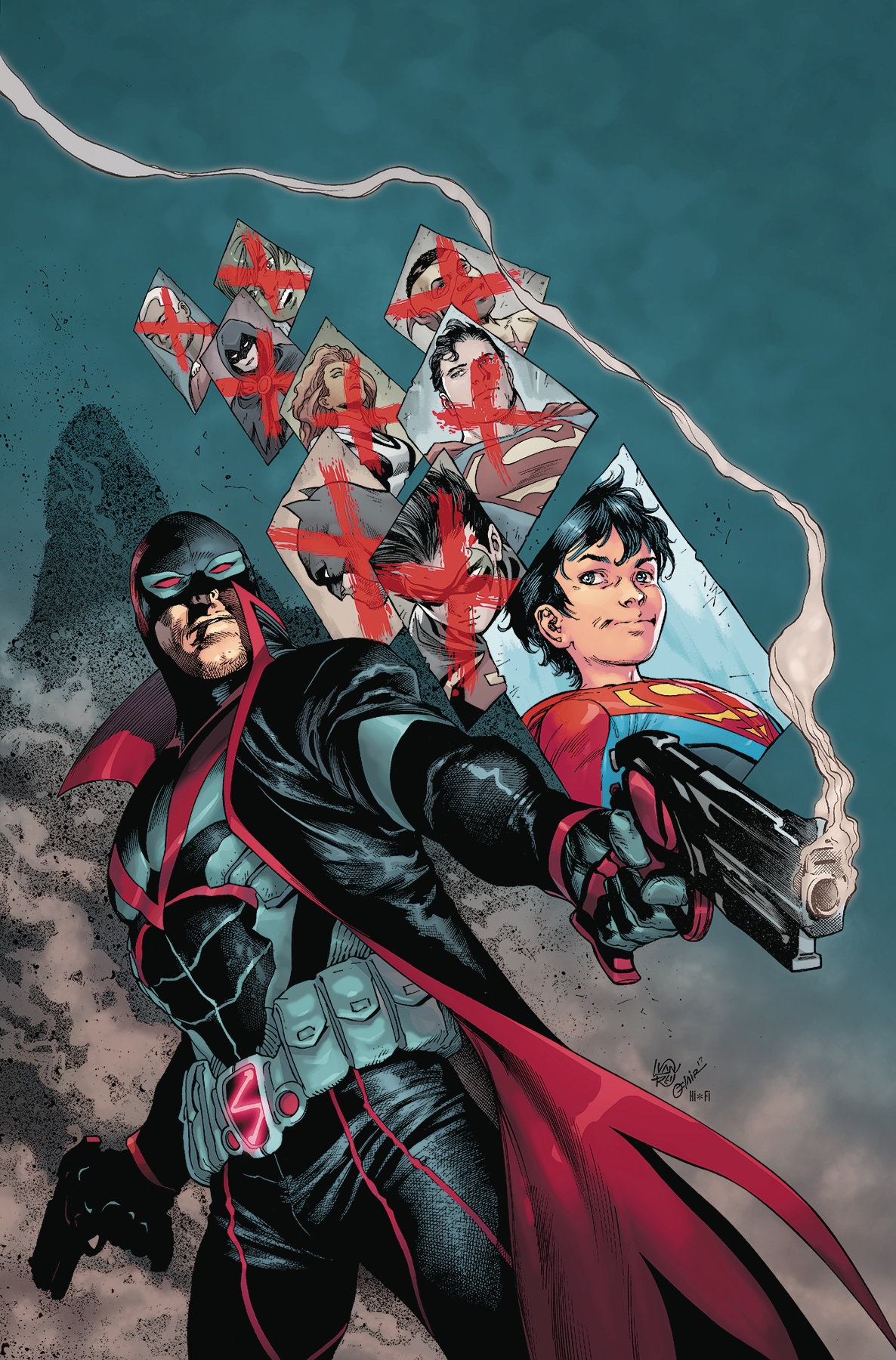 Se tiene que ser no nada más Batman. De hecho, Batman ni siquiera tendría que ser una persona. Él mejor que nadie, sabe que se trata de una idea y un "estilo de pensamiento", por lo que llegar a extremos de validar la eliminación de los poderes meta en el mundo (New Order), mantener un control violento (como BatDrake) y usar la tecnología a su favor para monitorear y dar ese sentido de estar siempre preparado, más que con planes, con tácticas (TEC), da una sensación de que en verdad sabe cómo acabar con la dichosa
Cruzada del Murciélago
.
Con todo lo anterior, es más que lógico pensar que por intelecto y preparación, son pocas las bati- figuras que podrían hacerle frente (quizá
Batgirl
).
La cuenta pendiente
De antemano sabemos que
Rebirth
y
Doomsday
Clock
estaban entrelazados de alguna manera.
Dr. Manhattan
y el propio
Jor- El
estaban involucrados en todo esto. Y se nos vendió el humo que Tim Drake tendría un rol mucho más grande en todo el plano del DCU.
Luego de una participación épica en TEC, en donde lo vemos "morir" al reconfigurar los bots de The Colony, Tim queda a merced de
Mr. Oz
(Jor- El), mismo que le dice que es de las pocas figuras que podría poner en jaque a todos y a todo.
A modo personal, la "muerte" de Tim fue algo que me gustó bastante, y ésta y la historia posterior nos devolvió la noción que era uno de esos personajes llenos de grandeza que se han malbaratado en busca de algo que ni los editores saben qué es. Tuvieron la oportunidad de hacerlo aún más grande con todas las repercusiones (Stephanie abatida,
Batwoman
desoncertada, Bats enojado hasta el hartazgo consigo mismo, el dolor de los demás Robins y Alfred...), pero no supieron aprovechar momentum.
Es fecha que no se nos ha revelado del todo porqué Tim fue capturado a la par de
Doomsday
, BatDrake,
Mister Mxyzptlk
y
Prophecy
. Es más, ni siquiera se mostró el escenario en el cual externa todo esto a Supes. ¿Y nos quieren hacer entender que Tim es capaz de procesar su participación en problemas interdimensionales y atemporales con tan sólo recibir una sesión de "lavado de memoria" con
Zatanna
(al inicio de la nueva
Young Justice
)?
La introducción del ship Conner- Drake no tarda en volver a darse. No tardaremos mucho en ver cómo se supone que van a apelmazar todos (o casi todos) los hechos previos al Flashpoint en un lapso de 5 años (Johns mediante).
Hemos visto, por los últimos 9 años un Tim que no termina de cuajar. Y eso es lo que DC sin duda estará borrando de nuestras memorias dentro de poco: ese héroe que se sabía menos "capaz" atléticamente que Bats o Nightwing, pero que siempre estaba tres movimientos adelante de sus enemigos, ese héroe que estaba para sus amigos y que mostraba que a pesar de todas las adversidades, aún podría conllevar una vida "relativamente" normal al estar alejado de los traumas más comunes de sus pares.
Algo que no podemos negar, es que desde hace ya rato nos hemos venido acostumbrando a ver la interacción de todos los Robins, ya sea en la mansión Wayne, en
Batburger
, enjuiciando a
Kate
Kane
o en una
Robin War
cualquiera. Eso es lo más grato que podemos recapitular de un período lleno de dudas para todos los Robins y cómo se entrelazan sus historias con Bats en una línea temporal sin pies ni cabeza...
El nuevo Drake
En su momento, quizá
Brian M. Bendis
pudo generar un impacto en la casa de enfrente, y ahora que ha tomado un contrato en exclusivo con la editorial de
Warner
está intentando dejar su huella desde el día uno. O bueno, eso nos quiere hacer creer.
Se agradece la vuelta de la
Legión de Superhéroes
, pero nos arrebató el crecimiento como personaje de
Jon Kent
y su amistad con Damian. Se agradece la vuelta de Young Justice, pero nos deja con más dudas que respuestas (e interés) y más ahora que Tim Drake dejará el "manto", dejará de ser Robin/Red Robin (que tampoco se nos fue explicado con claridad el cambio de mote salvo una ligera mención al inicio del TEC de Rebirth).
Así, una vez más, el Robin perfecto, dejará de serlo para convertirse en un Pato. Así como lo lee, amable y educado lector, un vil
Pato
(y dicho sea de paso, con un traje asquerosamente horrible).
Ok, no es lógica la relación de un murciélago con un petirrojo, pero, ¿un pato? ¿En serio?
Sin duda, DC está más que encomendado a desperdiciar la rica historia que le creo a uno de los personajes más queridos y no nada más de los cómics, sino de la televisión.
Esto, ¿acaso le traerá algún mejor entendimiento con el resto de la batifamilia? ¿Podrá por fin saber cuál es su rol de forma alejada de Gotham? ¿Dejará de tener los bati-fondos necesarios ya que no será parte de la marca "oficial"?
Si bien, es grato saber que hay acercamientos para devolvernos al personaje bonachón, optimista y calculador con la integración de Stephanie y Conner, además de una nueva oportunidad de liderar su propio equipo de héroes jóvenes. Sin embargo, hay algo que no cuadra.
Tal vez el plan es que ahora si comprendamos y veamos porqué un Tim Drake como héroe solitario podría funcionar.
Pero ya no puedes reescribir una historia de ese tipo cuando sabes todo el pasado que existe, por más Manhattan que seas.